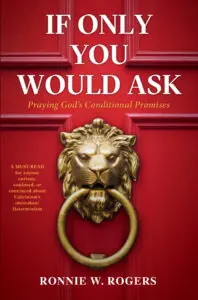 My most recent book Does God Love All or Some? includes thirty-four chapters that address Calvinist arguments such as libertarian freedom undermines God's sovereignty, rejecting Calvinism requires a weak view of depravity, what about those who never hear the gospel? I show how we know God's salvific love is Extensive, extends to every person, rather than limited to Calvinism's exclusive group, the unconditionally elected. I establish how we know God gives every person an opportunity to be saved, and how human acts like prayer really can affect a person's salvation, something which true Calvinism precludes.
I demonstrate true Calvinism is internally and biblically inconsistent by exploring such things as how the good faith offer is a really a bad deception, God is inescapably the ultimate cause of all sin, Calvinism's commitment to compatible moral freedom means every prayer, act, or proclamation that even hints at being able to change outcomes or involve a choice between accessible options contradicts true Calvinism, faith does not precede regeneration in Scripture and the analogy of human death cannot be used to demonstrate it does, reprobation is not necessary to demonstrate God's holiness, God does not have two wills, and the doctrines of grace do seriously affect evangelism.
Endorsements
"From the pen of a seasoned pastor and thoughtful former Calvinist this book peels back the layers of obfuscation that often encrust the hard realities of what is entailed in Calvinistic theology. This is probably the most penetrating summary critique of the biblical, theological, logical, and prac­tical incongruences inherent in Calvinistic theology I have read. Rogers goes beyond the surface level of criticism to the deeper layers of contradictions, exposing the soft underbelly of much of Reformed theology. Irenic, respectful, yet thoroughly probing, this is a must read for all who want to understand the issues more deeply."
David L. Allen
Dean, School of Preaching, Distinguished Professor of Preaching
Director of the Southwestern Center for Expository Preaching and George W. Truett Chair of Ministry, Southwestern Baptist Theological Seminary
"Does God Love All or Some?" should be required reading for all students preparing for ministry. Ronnie Rogers covers an array of topics that, unfortunately, are all-too-often neglected in theological education and personal conversations. From persuasively correcting the mythical narrative that one must be either an Arminian or a Calvinist to tackling the illogical fallacy of compatibilism, the author, with wit and balance, shares his personal theological journey and works through the maze of biblical complexities. I wish such a volume was available when I attended seminary years ago.
Emir Caner
President, Truett McConnell University, Professor of History and Christian Studies
I highly recommend this latest work by Ronnie Rogers to you. His treatment of the extensive nature of the atonement also deserves attention because he has written it as a person formerly ensconced in the doctrines of grace. His familiarity with the issues relevant to those who really are trying to work their way through Scripture, theology, and ministry is apparent in individual chapters dealing with so many of the nuances involved in addressing the question.
Barry Creamer
President, Criswell College, Professor of Humanities
From the Foreword
Rogers work reflects careful thought, precise language, and a gentle tone. He appeals to those who affirm Calvinistic theology to consider whether their presuppositions and definitions provide clarity to their reading of Scripture or reinforce their theological framework into which they place and through which they interpret Scripture. From this position of theological inquiry, Rogers deftly probes key issues such as the nature of God, providence, the human condition, compatibilism, God's desire for lost humanity, the order of salvation, grace, the gospel, and the dilemmas faced by Calvinists and Extensivists. Readers who desire to examine the distinctions between Christianity with Calvinism and Christianity without Calvinism will find this book to be a storehouse of perceptive theological inquiry and faithful exegetical analysis.
Adam Harwood, Ph.D.
Associate Professor of Theology, McFarland Chair of Theology, Director of the Baptist Center for Theology & Ministry, Editor of the Journal for Baptist Theology & Ministry
New Orleans Baptist Theological Seminary